I love Amazon.  Not the shallow love that one might have for any random human, but the deep and abiding love that arises spontaneously and naturally in response to an entity that provides you with what you most desire in exchange for the simple medium of cash, and never ceases striving to provide your desires more effectively (subject to its fiduciary responsibilities to its shareholders). It is True Love, the kind you Buy, and if I am ever cast into an enchanted slumber you may simply press the smile on the side of an Amazon Prime free 2-day shipping package to my lips and I will arise reborn into wakefulness, Phoenix and Princess Aurora both incarnate in one being.
Christmas has been drifting towards Amazonmas for me and most of my friends and family for several years, but this year may have become, for me, its apex.  All my gifts have to be electronic, now.  A physical gift is destined for the shipping container that my sister is hosting, where it will remain for many years until I return.  With that in mind, I combed through my Amazon Wishlist, weeded out anything that didn't have an eFormat, transubstantiated the rest (in keeping with the season), and also added many books that I'd had on my To Be Read shelf (shelves, rather) and really wanted to read but Just Hadn't Quite Gotten To.  The result of this was that my Christmas morning was spent poring through my e-mails clicking "Accept Gift" over and over and watching with delight as my Kindle app filled with Christmas cheer.  I mean, seriously: A Tale of Genji, the world's first novel, 1200+ pages, BOOM. Here.  Science, religion, SF,… I have very kind friends and family.
So, Christmas Day's Nice Places to Sit And Read is dedicated to Randall Munroe (creator of xkcd) and his What If… book (extracted from his website series here):
If you have any interest in either science or comedy, I can very highly recommend these essays, they're immensely entertaining and kind of awe-inspiring.  I haven't read one yet that could ever actually happen — throwing a baseball at close to the speed of light or completely stopping the rotation of the earth, and what would happen after, are amazing, but both are admittedly unlikely to ever occur.  But I see that today's entry on his website is about how to make a lava lamp with actual lava, so maybe there are more that are simply improbable rather than nigh-impossible.
The Nice Place continues to be that of my hosts, with whom I've spent most Christmases for many years. (Since my other second family moved to inconvenient northern locales, violating the shared custody agreement.)
The bitter, mid-50s winter weather was admirable justification for a morning fire, palm trees notwithstanding.  The basketball hoop has become the equivalent of the Narnia lamppost; no one's sure how it got dropped there, and it seems superfluous in this Jewish/Buddhist/Pagan household, but no one has found a reason to uproot it yet and it may well remain until Aslan calls this world to its end.
I celebrated with my usual festive spirit:
Not sleeping, reading my iPad.  And wearing my yamaclaus, a proud tradition going back, what, over a decade now?  (Thanks, O.C.)  Apropos of little, I'm going to miss cold weather clothing.  Some people look better in layers, and I confess to being one of them.  (Mostly stick-figure people. Perhaps that's why I like xkcd, all the figures look like self-portraits.)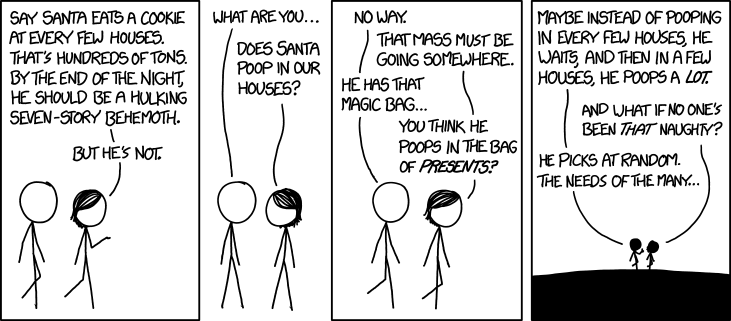 In the prior blog post, I mentioned reading xxxHolic Rei; I finished rereading that volume and moved on to vol 2, and they were both fantastic, as usual.  The CLAMP manga team is responsible for much of my favorite manga/anime, most notably Cardcaptor Sakura (my favorite TV show ever, east or west).  Both xxxHolic series play with themes that always hit my buttons: mythology and folk tales, magic, comedy both dry and broad, and themes of loneliness and friendship that, to a demi-hermit, always resonate strongly.  They also unapologetically promote "love who you love".  CCS plays on this through several lines, large and small: Sakura's older brother Toya and his best friend Yukito, Rika's love for her teacher, Tomoyo's unwavering devotion to Sakura, Meiling and Syaoran, Syaoran and Yukito, Syaoran and Sakura… (Seriously, what's up with Syaoran? He's pretty young to be such a player.)  It's a treatment of reality that you rarely see in the west with its vast set of taboos about what people should be allowed to feel or think in their relationships.  (The Japanese have their own set, of course, but if they manifest in CLAMP's work, I haven't noticed them.)  I haven't liked everything CLAMP's done (Kobato was, for me, too cloying to read past 2 volumes), nor should I, but their batting average is solid, and I'll buy anything they write sight-unseen.
I've got a bunch of manga to finish up before I go (like most of Genshiken's second season), so most of the Christmas gifts will have to wait until I'm on the road.  But, of course, that's when I'll need them most, so it all works out perfectly.
Thanks, family and friends. <insert heart emoticon here> <No, really, please — I haven't figured out how to do that yet.>